Camrynn Fausey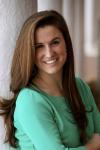 Ph.D. Student, Chemical and Environmental Engineering, Yale University
B.S. Systems Engineering, University of Virginia, 2013
B.A. Economics, University of Virginia, 2013
---
Cammie is a second year in both Prof. Menachem Elimelech and Prof. Julie Zimmerman's research groups in the Department of Chemical and Environmental Engineering at Yale University. She completed her undergraduate at the University of Virginia, where she received a B.S. in Systems Engineering, a B.A. in Economics, a minor in Science & Technology Policy, and a minor in Business. She worked as a White House Intern in the Office of Science and Technology Policy, served two years as an engineer for the Department of Defense, and raced Ironman triathlons competitively. 
Now at Yale, her research takes a turn back toward her passion for water treatment in the developing world. Cammie's research focuses on nano-technology to treat contaminated water in communities without adequate water treatment facilities. She is developing a multi-layer, multi-functional water filter for decentralized applications. Cammie recently developed a prototype for the first layer of this filter by embedding titanium dioxide into an electrospun mat for the removal of toxic inorganics from water, such as arsenic. To assist titanium dioxide's photocatalytic chemistry, she is currently incorporating graphene oxide as well. She will soon begin the design of the next layers in this multi-layered water filtration system. 
Outside of the lab, Cammie continues to train for triathlon and is an assistant coach for Yale's cross country and track teams. She leads the research team of Yale's Archimedes Project, which spearheads revenue-generating enterprises to address lack of universal water and sanitation access around the world. She enjoys getting local New Haven cannoli's with her husband and playing frisbee with their German Shepherd, Tyson.