Sohum Patel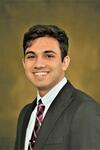 Ph.D. Candidate, Chemical and Environmental Engineering, Yale University
B.S. Chemical Engineering, University of Illinois Urbana-Champaign, 2017
---
Download CV                 Google Scholar Profile
Sohum is a third year Ph.D. student in the Elimelech Research Group. He received a Bachelor of Science in Chemical Engineering from the University of Illinois Urbana-Champaign in 2017. Sohum discovered his passion for water treatment technologies during an internship at a palm oil refining plant, in which he designed industrial scale systems to reuse treated water and reduce the plant's annual water consumption. He was then provided the opportunity to undertake interdisciplinary undergraduate research in the University of Illinois' Environmental Engineering department. Sohum's research efforts were focused on a novel application of microbial electrolysis cells for coupled hydrogen production and enhanced nutrient recovery from wastewater. Following graduation from the University of Illinois, Sohum gained further experience in research and development at Argonne National Laboratory. At Argonne, he assisted on a project aimed at developing Li-ion battery cathode materials with improved thermal stability for electric vehicles.
Desiring to continue research at the water-energy nexus, Sohum made the exciting decision to join the Elimelech Lab at Yale. He is working on modeling of ion transport in electrochemical desalination processes. Sohum is also interested in developing technologies for selective ion removal.
In his spare time, Sohum enjoys competition through playing various sports. His favorites are soccer, tennis, and golf. He is a devoted fan of Marvel movies, Chicago style deep dish pizza (though New Haven appiza is growing on him), and iced coffee year round.