Camille Violet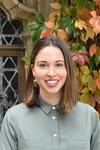 Ph.D. Student, Chemical and Environmental Engineering, Yale University
B.S. Chemical Engineering, Oregon State University, 2016
B.A. International Studies, Oregon State University, 2016
---
Camille is a fourth year PhD candidate and NSF Graduate Research Fellow in Professor Elimelech's group. Her research focuses on developing design principles for high-precision membranes which can separate ions of similar charge and size. Inspired by the chemical structures of biological ion channels, Camille uses metal-organic frameworks as customizable platforms to study relationships between pore chemistry and selective ion transport. These ion separations are critical for resource recovery, electronic waste recycling, and wastewater reuse.
Camille completed a B.S. in Chemical Engineering and a B.A. in International Studies at Oregon State University. Her international interests led her to study Bengali in Bangladesh as a US Dept of State Critical Language Scholar and Swahili in Tanzania as an NSEP Boren Scholar. Camille learned about water treatment processes while interning at a Tanzanian brewery during the Boren Scholarship program. Post graduation, she worked for two years as a chemical engineer synthesizing quantum dot nanomaterials and supporting the growth of a manufacturing line at a start-up company in Portland, Oregon. She decided to pursue graduate studies in Environmental Engineering because her experiences at home and abroad showed her the critical need for clean water and the exciting challenge of resource recovery technologies.
Outside the lab, Camille is a devoted member of the Yale Tango Club and a whitewater kayaker. She loves discovering local nature spots and maintains that Connecticut is the most underrated US state.