Martina del Cerro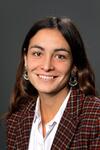 Ph.D. Student, Chemical and Environmental Engineering, Yale University
M.S. Environmental Engineering in Civil Engineering, University of Illinois at Urbana-Champaign, 2018
B.S. Chemical Engineering, Universidad Nacional de Mar del Plata, Argentina, 2014        
Martina is a first year PhD student in the Environmental Engineering. Her interests lie on technology development and scale-up as well as process optimization using data analysis techniques. She hopes to apply these concepts in the fields of brine management and membrane fouling and scaling control.
Martina got her B.S. in the Department of Chemical Engineering at Universidad Nacional de Mar del Plata in Argentina. After earning a Fulbright Scholarship, she decided to pursue graduate studies in the US and got her M.S. in Environmental Engineering at the University of Illinois at Urbana-Champaign, where she discovered her passion for water and membrane processes. She worked at Dr.  Cusick's lab understanding transport mechanisms in capacitive deionization technologies for brackish water desalination, and during her last year started working at the Illinois Sustainable Technology Center (ISTC), part of the Prairie Research Institute. She then became a Process Engineer at ISTC, conducting research on process development involving forward osmosis to reclaim water from flue gas desulfurization wastewater in coal-fired power plants. She then moved to Spain where she worked as an R&D consultant at CIRCE Foundation in Zaragoza, assisting both private and public clients in the fields of industrial decarbonization, water management, plastics recycling, and energy efficiency. Before joining Yale, she returned to ISTC where she managed a DOE funded project consisting of leveraging a domestic wastewater treatment technology using both bacteria and algae, for biofuel production.
Outside of research, Martina is an avid field hockey player, enjoys all sorts of outdoor sport activities and of course, loves going back to Argentina to visit her family and friends in her hometown Mar del Plata, which according to her, has some of the most beautiful beaches in the world!
Publications
pdfs and supporting information for group publications available on the main publications page.
Kim, M., Del Cerro, M., Hand, S., Cusick, R. D. (2019). Enhancing capacitive performance with charged structural polysaccharide electrode binders. Water Research, 148, 388-397.
Bhat, A. P., Reale, E. R., Del Cerro, M., Smith, K. C., & Cusick, R. D. (2019). Reducing impedance to ionic flux in capacitive deionization with Bi-tortuous activated carbon electrodes coated with asymmetrically charged polyelectrolytes. Water Research X, 3, 100027.