Tayler Hedtke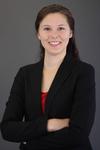 Ph.D. Student, Chemical and Environmental Engineering, Yale University
B.S. Chemical and Biomolecular Engineering, University of Houston, 2019
---
Tayler is a Ph.D. candidate co-advised by Dr. Menachem Elimelech and Dr. Jaehong Kim. As an undergraduate researcher, she became interested in water quality issues during a summer research position at Colorado School of Mines while using ceramic membranes and activated carbon to remove PFAS from drinking water. The following summer, she joined a research group at the University of Kaiserslautern working with molecular simulations to study surface wetting behavior unobservable through physical experimentation. Tayler also researched the interactions between different types of antiscalants that separately target mineral and microbial fouling in reverse osmosis systems while attending the University of Houston.
Tayler has continued her focus on membrane water treatment at Yale by joining the Elimelech and Kim groups. She is working on developing a catalytic membrane to perform oxidation for water treatment.
Outside of research, Tayler enjoys playing tennis, traveling, and hiking.
Publications
pdfs and supporting information for group papers available on the main publications page.
Wu, X., Rigby, K., Huang, D., Hedtke, T., Wang, X., Won Chung, M., Weon, S., Stavitski, E., Kim, JH., "Single-Atom Cobalt Incorporated in a 2D Graphene Oxide Membrane for Catalytic Pollutant Degradation." Environmental Science & Technology, 2021. 6 (2), 1341-1351. DOI: 10.1021/acs.est.1c06371
Zhang, S., Hedtke, T., Wang, L., Wang, X., Cao, T., Elimelech, M., Kim, JH., "Engineered Nanoconfinement Accelerating Spontaneous Manganese-Catalyzed Degradation of Organic Contaminants." Environmental Science & Technology, 2021. 55 (24), 16708-16715. DOI: 10.1021/acs.est.1c06551
Zhang, S., Hedtke, T., Zhu, Q., Sun, M., Weon, S., Zhao, Y., Stavitski, E., Elimelech, M., Kim, JH., " Membrane-Confined Iron Oxychloride Nanocatalysts for Highly Efficient Heterogeneous Fenton Water Treatment." Environmental Science & Technology, 2021. 5 (13), 9266-9275. DOI: 10.1021/acs.est.1c01391
Zhang, S., Hedtke, T., Zhou, X., Elimelech, M., Kim, JH., "Environmental Applications of Engineered Materials with Nanoconfinement." ACS ES&T Engineering, 2021. 1 (4), 706-724. DOI: 10.1021/acsestengg.1c00007
Sun, M., Wang, X., Winter, LR., Zhao, Y., Ma, W., Hedtke, T., Kim, JH., Elimelech, M., "Electrified Membranes for Water Treatment Applications." ACS ES&T Engineering, 2021. 1 (4), 725-752. DOI: 10.1021/acsestengg.1c00015
Zhang, S., Sun, M., Hedtke, T., Deshmukh, A., Zhou. X., Weon, S., Elimelech, E., and Kim, J., "Mechanism of Heterogeneous Fenton Reaction Kinetics Enhancement under Nanoscale Spatial Confinement." Environmental Science & Technology, 2020. 54 (17), 10868-10875. DOI: 10.1021/acs.est.0c02192
Murray, C., Vatankhah, H., McDonough, C., Nickerson, A., Hedtke, T., Cath, T., Higgins, C., Bellona, C., "Removal of Per- and Polyfluoroalkyl Substances Using Super-Fine Powder Activated Carbon and Ceramic Membrane Filtration." Journal of Hazardous Materials, 2019. 366, 160-168. DOI: 10.1016/j.jhazmat.2018.11.050